25-Mar-2020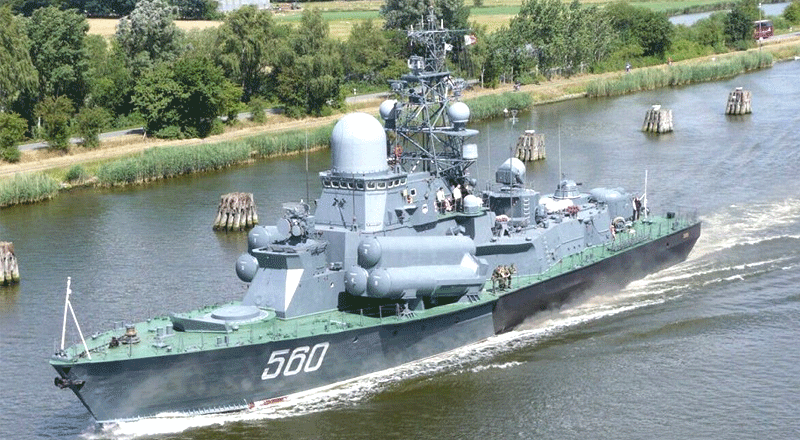 ---
The Russian Navy (Voyenno-Morskoy Flot, VMF) is planning to integrate its Project 12341 (NATO reporting name: Nanuchka III-class) corvette 'Smerch' (Whirlwind) with the Bal (SSC-6 Sennight) mobile coastal defense missile system (MCDMS), according to the Russian newspaper Red Star (Krasnaya Zvezda).
"There is a plan to couple the upgraded Project 12341 small missile ship [corvette] 'Smerch' to the Bal MCDMS under a joint network. Such an integration will allow the ship and the MCDMS to rapidly share target information and use the organic weapons in a more effective way, dramatically increasing their anti-ship capabilities," said the Red Star on March 25.
According to the media outlet, the corvette 'Smerch' has been issued to the Kamchatka Ship Brigade of Maritime Area Protection, which is a part of the North-West Troops and Forces formation. "Considering a report, according to which all the small missile ships of the brigade are planned to be upgraded, the combining of the Bal MCDMS and the corvettes under a single umbrella seems to be more than real," noted the newspaper.
The 'Smerch' has passed through a deep modernization, according to the Red Star. "All the analogous subsystems of the ship have been replaced with digital units. The surface combatant has been fitted with new powerplants and [an improved] radar. The modernization has drastically increased the combat and tactical potential of the ship. The update has also reduced the surface combatant's weight by some 50 t, enhancing its maneuverability," said the newspaper.
Both 'Smerch' and Bal are reported to carry the Uran missile system with the Kh-35 (AS-20 Kayak) ASM. The export-oriented variant of the baseline missile, Kh-35E ('E' for Export-oriented, Eksportnaya), has a firing range of 5-130 km. The Tactical Missiles Corporation (Korporatsiya Takticheskoye Raketnoye Vooruzheniye, KTRV) has upgraded the weapon: the range of the modernized Kh-35UE ('UE' for Upgraded, Export-oriented; Usovershenstvovannaya, Eksportnaya) has been extended to 7-260 km. Both ASMs carry high-explosive fragmentation (HE-Frag) penetrating warheads.
Russia is also updating the target designation devices of the Bal MCDMS. In May 2015, Director General of the concern Morinformsystema-Agat Georgy Antsev told the news agency TASS that the Bal would likely be fitted with a rotary-wing unmanned aerial vehicle that would provide target designation.
Source:
navyrecognition.com