06-Jun-2020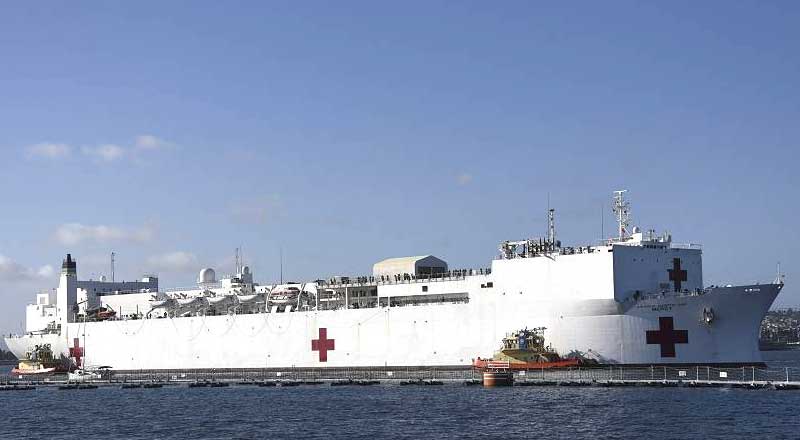 ---
US Navy awards contract to Vigor Marine for overhaul hospital ship USNS Ship Mercy

According to a contract released by the U.S. Defense Government on June 6, 2020, Vigor Marine LLC, Portland, Oregon, is awarded a $56,450,644 firm-fixed-price contract for a 210-calendar day split shipyard availability for the regular overhaul and dry docking of the hospital ship U.S. Naval USNS Ship Mercy (T-AH 19). Work will be performed in Portland, Oregon, and is expected to be complete by August 2021.
The USNS Mercy (T-AH-19) is the lead ship of her class of hospital ships in non-commissioned service with the United States Navy. United States Naval Ship (USNS) Mercy was built as a San Clemente-class oil tanker, SS Worth, by National Steel and Shipbuilding Company, San Diego, California, in 1976. Starting in July 1984, she was renamed and converted to a hospital ship by the same company. Launched on 20 July 1985, Mercy was placed in service on 8 November 1986.
A hospital ship is a ship designated for primary function as a floating medical treatment facility or hospital. Most are operated by the military forces (mostly navies) of various countries, as they are intended to be used in or near war zones. In the nineteenth century, redundant warships were used as moored hospitals for seamen.
Currently, the U.S. Navy has two Mercy-class hospital ships including the USNS Mercy (T-AH 19) and USNS Comfort (T-AH 20). These ships have become prime assets in the Navy's efforts to reach out to foreign countries and provide humanitarian assistance and disaster relief. Since 2001, the hospital ships have conducted a number of humanitarian-assistance and disaster-response missions at home and abroad, providing care to more than 550,000 people.
U.S. Navy USNS Mercy (T-AH 19) and USNS Comfort (T-AH 20) each contain 12 fully-equipped operating rooms, a 1,000-bed hospital facility, digital radiological services, a medical laboratory, a pharmacy, an optometry lab, a CAT-scan and two oxygen-producing plants. Each ship is equipped with a helicopter deck capable of landing large military helicopters. The ships also have side ports to take on patients at sea.
When fully operational, the hospital ships have a crew of about 71 civilians and up to 1,200 Navy medical and communications personnel. The precise crew composition and size varies by mission type. During humanitarian-assistance missions, the crew often includes representatives from other U.S. services, foreign militaries, and non-governmental organizations.
Source: navyrecognition.com