29-Sep-2018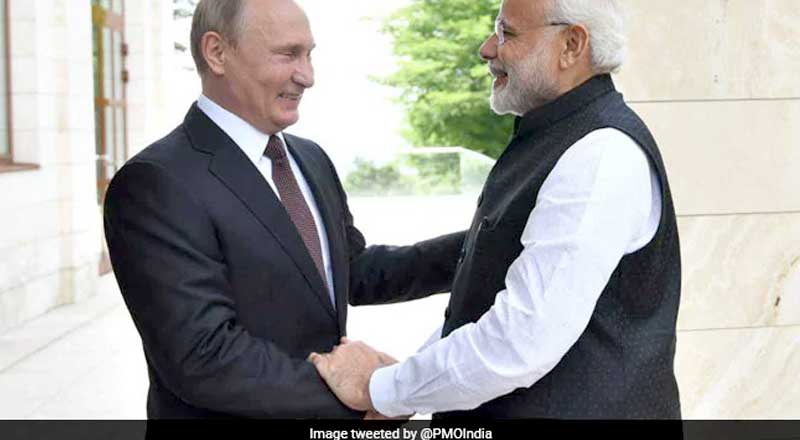 ---
Russia's foreign minister has said it is up to India to decide what kinds of weapons it wants and how to proceed with military deals signed in 2015. Russian President Vladimir Putin is scheduled to visit India next week.
In October 2016, Prime Minister Narendra Modi signed a deal worth Rs. 39,000 crore with the Russian president to purchase Moscow's most advanced air defence system, the S-400.
"As for the other deals which are being negotiated, I haven't heard anything about the timing, postponement, about putting anything on hold, and I understand that India will take sovereign decision on how to proceed and what kind of weapons India needs," Russia's Foreign Minister Sergey Lavrov told NDTV on the sidelines of the United Nations General Assembly or UNGA.
The S-400 missile system can track some 300 targets and shoot down around three dozen targets simultaneously over a range of 400 kilometres. The sensitive radars of the system are thought to be able to detect even stealth aircraft which present a very small radar cross-section and are often impossible for other systems to track.
Mr Lavrov also denied any knowledge of the controversy over the Rafale warplane deal that India had signed with France's Dassault Aviation.
Mr Putin will be in India for a two-day visit on October 4 and 5 for the annual India-Russia summit with a focus on boosting bilateral ties between the two countries.
Answering NDTV's question on whether Russia would be more thorough in following rules for their defence deal with India after the Rafale row, Mr Lavrov said, "We participated in the bid for that delivery (India's proposal to buy warplanes) and we didn't get it. I haven't heard about this since".
India began the process to buy a fleet of 126 Medium Multi-Role Combat Aircraft (MMRCA) in 2007 after the Defence Ministry, headed then by Congress leader AK Antony, cleared the proposal from the Indian Air Force. The contenders for the mega deal were Lockheed Martin's F-16s, Eurofighter Typhoon, Russia's MiG-35, Sweden's Gripen, Boeing's F/A-18s and Dassault Aviation's Rafale.
The 19th India-Russia summit summit is also expected to see India following up acquiring five S-400 'Triumph' missile systems, four Project 11356 frigates, 48 Mi-17V-5 helicopters and 200 Ka-226T helicopters from Russia.
Source: NDTV