10-Apr-2020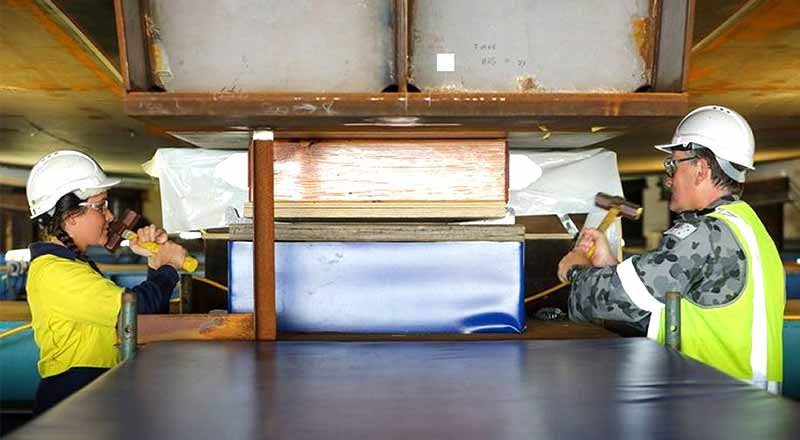 ---
Australian Navy ceremonial keel laying for second Arafura Class Offshore Patrol Vessel

"Keel laying is an important shipyard and naval tradition, where the two groups come together to observe a moment that not only initiates the formal construction phase of the build, but also is thought to bring good luck through the build phase and subsequent life of the ship."
He formally thanked industry partners Luerssen Australia and ASC, who collectively have built and commenced consolidation of the keel blocks of what will be a 1600 tonne Offshore Patrol Vessel.
"The naming of a vessel is also a significant milestone and as you know, the first OPV when commissioned will be named HMAS Arafura, and thus the class will be referred to as the Arafura Class," Vice Admiral Noonan said.
"Significantly, it will be the first Royal Australian Navy ship to ever carry this name. It also represents a significant coastal land and sea region of Australia."
The naming convention following both maritime regions and first names for Royal Australian Navy ships continues with the next five vessels. OPV 2, upon commissioning into the Royal Australian Navy, will be known as HMAS Eyre, which will occur in 2023.
Following their respective commissioning, OPV 3 will be HMAS Pilbara, OPV 4 will be HMAS Gippsland, OPV 5 will be HMAS Illawarra, and OPV 6 will be HMAS Carpentaria.
The Arafura class is a multipurpose small warship class for the Royal Australian Navy (RAN). Initially proposed in the 2009 Defence White Paper and marked as procurement project SEA 1180, It was originally planned 20 OCVs would replace 26 vessels across four separate ship classes: the Armidale-class patrol boats, the Huon-class minehunters, the Leeuwin-class survey vessels, and the Paluma-class survey motor launches.
The twelve Australian vessels are based on the PV80 design with the first two vessels to be built at ASC's Osborne ship yard in South Australia before production moves to Civmec's Henderson ship yard in Western Australia.
The primary role of the OPV will be to undertake constabulary missions, maritime patrol and response duties. State of the art sensors as well as command and communication systems will allow the OPVs to operate alongside Australian Border Force vessels, other Australian Defence Force units and other regional partners.
The OPV design will support specialist mission packages, such as a maritime tactical unmanned aerial system, and into the future, rapid environmental assessment and deployable mine counter measure capabilities.
Source: navyrecognition.com