14-May-2020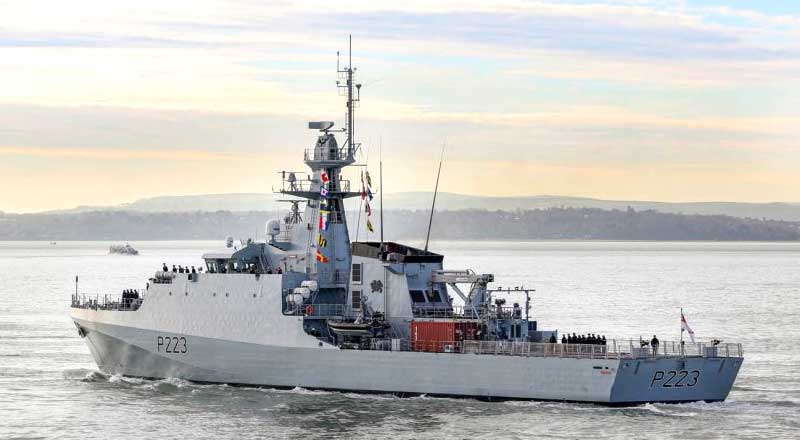 ---
On March 13 2020, Royal Navy released a video on HMS Medway official twitter account, showing a Royal Navy Merlin HC.4 helicopter landing on a River Batch 2 offshore patrol vessel (OPV) on deployment for the first time.
The Merlin, assigned to 845 Naval Air Squadron and attached to the Royal Fleet Auxiliary ship RFA Argus (A135), is currently deployed in the Caribbean to support British Overseas Territories during the Coronavirus (COVID-19) pandemic.
The helicopter landed on the HMS Medway (P223) deployed in the region since last January as part of the Atlantic Patrol Task (North).
About Merlin HC.4:
The Merlin HC.4 is the navalized variant of ex RAF helicopters transferred to the Royal Navy to replace the Junglie Sea King in the commando/logistics role.
The AgustaWestland AW101 base is a medium-lift helicopter used in both military and civil applications. First flown in 1987, it was developed by a joint venture between Westland Helicopters in the United Kingdom and Agusta in Italy in response to national requirements for a modern naval utility helicopter.
Several operators, including the armed forces of Britain, Denmark, and Portugal, use the name Merlin for their AW101 aircraft. It is manufactured at factories in Yeovil, England and Vergiate, Italy; licensed assembly work has also taken place in Japan and the United States.
About HMS Medway:
HMS Medway is the second of five new River-class offshore patrol vessels.
HMS Medway is a River-class offshore patrol vessel. Along with her sister's vessels, she was designed for counter-piracy, anti-smuggling, fishery protection, border patrol, counter-terrorism and maritime defence duties.
The first steel was cut on HMS Medway in June 2015, at a ceremony in Glasgow. HMS Medway was formally named at BAE's Scotstoun yard on the Clyde by Lady Fallon, wife of Defence Secretary Sir Michael Fallon and sponsor of Medway throughout her active life, on 20 October 2017.
Source: navyrecognition.com