29-Aug-2022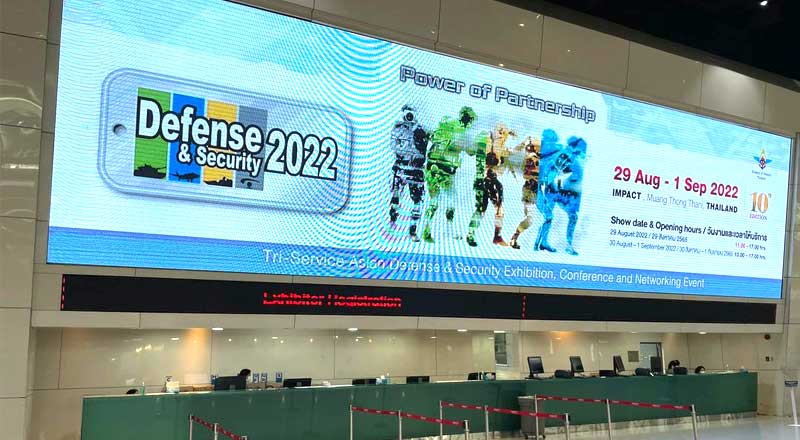 ---
Major Regional Defense & Security Show Opens in Bangkok, Driving Forward Thailand's Defense Industry Agenda

For 20 years, Defense & Security has been an important biennial event as ASEAN's Leading Tri-Service defense and internal security exhibition, conference, and networking event, held in Bangkok, Thailand. Defense & Security 2022 is being held from 29 August to 1 September 2022 at IMPACT, Muang Thong Thani and is fully supported by Ministries of Defence and Armed Forces from around the world.
Defense & Security 2022 – the 10th edition - is designed under theme 'The Power of Partnership' which is based on mutual understanding, trust, and the needs of the military. The show has utilized its rich history of partnering with multinational corporations and manufacturers in the defence and internal security industry and provides outstanding opportunities for show's participants to network, exchange knowledge, do business and initiate long-term associations.
In addition, the show responds to the government's aims to develop Thailand's defence technology capability and achieve self-reliance in the local defence industry, reduce the country's dependence on imports, promote technology transfer and export locally made military equipment. The Ministry of Defence aims to develop the local defence industry via a public-private partnership through which the government will collaborate with local and foreign companies in investing in infrastructure, facilities and establishing networks within the local defence industry.
Defense & Security 2022 is hosting over 318 brands from 37 countries including 15 major nation pavilions in the defence and internal security industry. The show provides the opportunity for people in the industry to explore possible partnership opportunities with some of the major defence and security manufacturers to further develop the nation's defence industry. It is set to welcome more than 20,000 defense and security professionals from 63 countries who will attend the show this year. In addition, over 200 official delegations and decision makers such as Ministers of Defense, Chiefs of Armed Forces and High-Ranking Government officials from 30 countries – especially from ASEAN - will attend this year's show. Local delegations attend in force including the Chiefs of Armed forces and other high-ranking Thai military, Police, and related Government & Private agencies.
This is an excellent opportunity for military personnel and professionals in the industry to get acquainted with leading military manufacturers from around the world and inspect the latest cutting-edge technologies in defense, internal security, cyber security, disaster management, and others. The show also caters to the need for high performance equipment and technology that can enhance combat readiness and strengthen the Armed Forces. This ensures sustainable national security as well as increasing the ability to provide humanitarian assistance during natural or manmade disasters including preventing human trafficking, border control and counteracting the illicit drug trade.
Defense & Security 2022 also serves an important platform for networking, interaction, and partnerships between allied countries. It helps meet future challenges through mutual respect, understanding and co-operation especially with ASEAN countries as the progress of science & technology has made military cooperation between nations more essential than ever. Over the 4 days, there are Government-to-Government (G2G), Government-to-Business (G2B), and Business Matching meetings between the public and private sectors and this exchange of views is projected to establish long-term associations and partnerships.
Running in conjunction with Defense & Security 2022 there are highly informative seminars and conferences plus live demonstrations that will cover a range of relevant areas. There are international seminars relating to current issues in the defense & internal security industry which include topics such as "Direction and guidelines of the strategic drive towards the future of the Thai defense industry" and "Development of Thailand's MRO section to be the hub of an ASEAN MRO base" All will be delivered by some of the world's leading experts in their field and should not be missed.
The show is open to professionals in the defense and security industry only and is not open to the public. Admission is free to officials and personnel from the Ministry of Defense, Ministry of Interior, Royal Thai Armed Forces, Customs & Immigration plus defense & security related areas.