17-May-2020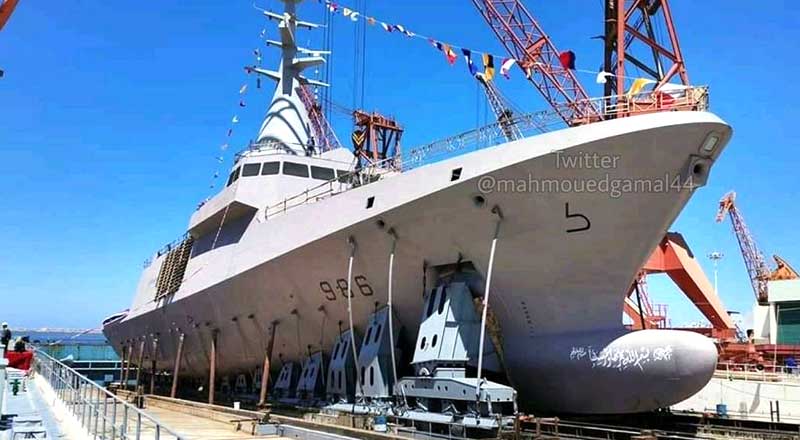 ---
According to a Tweet released by the French company Naval Group on May 14, 2020, Egyptian Alexandria shipyard has launched the 4th El Fateh-class Gowind-2500 corvette Luxor L986.
The Gowind is a family of steel monohull frigates, corvettes and offshore patrol vessels developed since 2006 by France's Naval Group, formerly known as DCNS. The Gowind 2500 multi-mission corvette is designed to conduct surveillance, surface and subsurface combat, protection and escort naval missions. It can also perform presence, maritime surveillance and policing missions against trafficking and piracy.
In 2014, Egypt signed a €1bn contract with Naval Group to buy four Gowind 2500 corvettes with an option for two more. Three of the corvettes are to be built locally by Alexandria Shipyard within a technology transfer agreement. Egypt is in talks with France to acquire another two Gowind corvettes which, if ordered, would be produced by France in Lorient.
Alexandria Shipyard started cutting metal for the second Gowind corvette intended for the Egyptian Navy in April 2016, it is the first corvette to be built locally in Egypt. Naval Group sent supervision and technical assistance teams, technical data and necessary components to Alexandria for assisting Egypt in the local construction of the three corvettes. The company also provided training for the Egyptian staff at its site in Lorient.
The standard Gowind 2500 corvette is armed with an OTO Melara 76mm main gun, two Nexter Narwhal 20mm cannons, a vertical launch system (VLS) for 16 VL Mica surface-to-air missiles, eight MBDA MM40 Exocet anti-ship missile launchers and two triple torpedo launchers.
The Gowing 2500 corvette also has a helicopter deck able to host and deploy a 10 tons helicopter and unmanned aerial vehicles (UAVs). It also provides a hangar facility for embarked helicopter. Through 360° sensor coverage and deployable assets, GOWIND 2500 can simultaneously detect, track and engage multiple airborne, surface and submarine threats, providing the best performance in all warfare domains.
The GOWIND 2500 offers exceptional stealth capabilities with reduced radiated noise and Radar Cross Section (RCS) significantly improving the tactical advantage over other ships of her class.
Source: navyrecognition.com