16-Apr-2020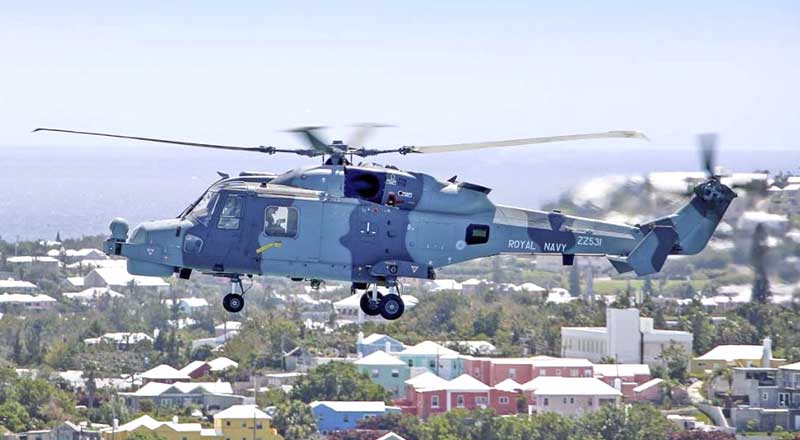 ---
Royal Navy aviators have completed vital reconnaissance sorties over Bermuda after support ship RFA Argus arrived in the Caribbean ahead of hurricane season.
Three Commando Merlin helicopters of 845 Naval Air Squadron and a Wildcat of 815 Naval Air Squadron have joined Argus as she patrols the region in readiness to support British Overseas Territories during the hurricane season. Working with Bermudan authorities, the Commando Helicopter Force Merlins and 815's Wildcat gathered crucial information on landing sites where humanitarian aid could be brought ashore if called for by the island's governor in a time of need.
As well as search and rescue training, the navy fliers and Argus took part in joint exercises with the newly-formed Bermudan coastguard, which was launched in February to provide security and safety in the seas around the islands which have a population of more than 62,000. This included the 203 Flight Wildcat helping the Bermudans track noncompliant vessels from the air.
RFA Argus will shortly join HMS Medway, who has been in the Caribbean for three months already after being forward-deployed to Atlantic Patrol Tasking (North), a mission that focuses on providing reassurance to Commonwealth and British Overseas Territories, disrupting the flow of smuggled narcotics and supporting humanitarian relief efforts.
Captain Phil Dennis RN, Commander of the Royal Navy's task group in the region, said: "Our preparations in Bermuda demonstrate that as a navy we can operate together, with our partners, and ensure the protection of British nationals, both within mainland UK and the Overseas Territories."
Source: navyrecognition.com