22-Feb-2022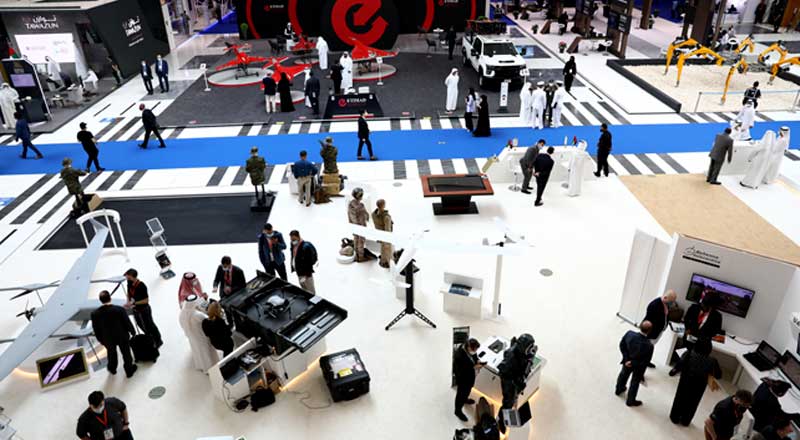 ---
Abu Dhabi, UAE, 22 February 2022: Under the patronage of His Highness Sheikh Mohamed bin Zayed Al Nahyan, Crown Prince of Abu Dhabi, Deputy Supreme Commander of the United Arab Emirates Armed Forces, activities of the fifth edition of UMEX & SimTEX 2022 continued, organised by Abu Dhabi National Exhibitions Company (ADNEC) in cooperation with the UAE Ministry of Defence, with wide-scale participation of major companies specialising in unmanned systems, training, and simulation from 26 countries, and unprecedented attendance by high-level official delegations from across the world.
On the second day of the event, the Ministry of Defence announced the signing of three new deals with an overall value of over AED 966.25, compared to deals valued at AED 156.091 million on the second day of the exhibitions in 2020. This brings the total number of deals of the first two days of this year's edition to six with an overall value of AED 1.620 billion, with an increase of 159% compared to the deals of the first two days in the 2020 edition.
The overall value of deals signed by the Ministry of Defence with local companies participating in UMEX & SimTEX 2022 in its second day amounted to approximately AED 874.174 million, while contracts with foreign companies amounted to AED 92.077 million.
The second day deals include one valued at over AED 874.174 million with International Golden Group for purchasing a drone system, and an AED 46.643 million contract with the American Anduril Industries company for finishing trials related to an anti-drone system, along with a deal valued at around AED 43.434 million with France's MBDA company for purchasing thermal flares.
This year's edition hosts several prominent global companies, including the US General Atomics company for aviation systems, the US L3 Harris Technologies, the US Insitu company, France's NExter Systems, Ukraine's Ukroboronprom, Italy's Fincantieri, and China's ALIT, and many more leading global countries that are launching their latest unmanned systems innovations and technologies at UMEX & SimTEX.
The fifth edition features 15 live shows in the Tilal Swaihan area, showcasing grounded and aerial unmanned systems and AI and robotics technologies, with a total of 22 advanced technologies and innovations in the fields being unveiled at these shows. This edition also features the Modern Technology Track, which takes visitors on a tour showcasing the latest advanced technologies featured at the exhibitions, UMEX talks, the best innovative solutions for challenges, and futurism endeavours in a world with rapid scientific advances and increasing reliance on unmanned systems and AI.