06-Jun-2020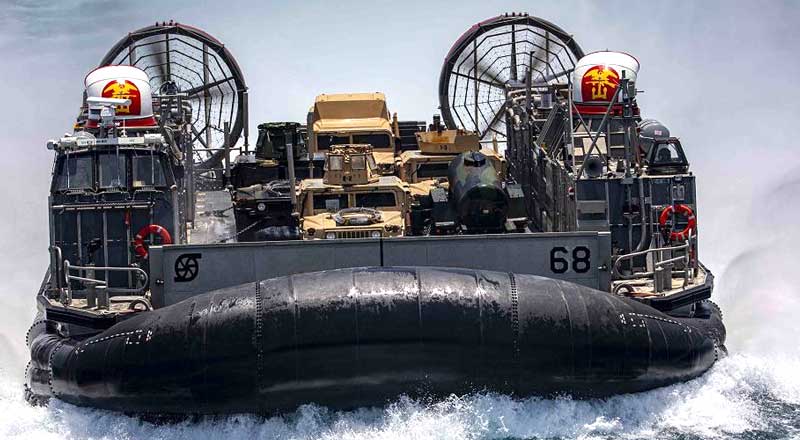 ---
The U.S. Navy Assault Craft Unit (ACU) 4 has conducted naval operations in the Arabian Gulf near the amphibious transport dock ship USS New York (LPD 21).
The USS New York, with the Bataan Amphibious Ready Group and with embarked 26th Marine Expeditionary Unit, is deployed to the U.S. 5th Fleet area of operations in support of naval operations to ensure maritime stability and security in the Central Region, connecting the Mediterranean and the Pacific through the Western Indian Ocean and three critical chokepoints to the free flow of global commerce.
The U.S. Navy Assault Craft Unit (ACU) 4 is equipped with LCAC (Landing Craft Air Cushion) a class of air-cushion vehicle (hovercraft) used as landing craft by the United States Navy's Assault Craft Units and the Japan Maritime Self-Defense Force (JMSDF). The LCAC can transport weapons systems, equipment, cargo and personnel of the assault elements of the Marine Air/Ground Task Force both from ship to shore and across the beach.
The LCAC provides the capability to launch amphibious assaults from points over the horizon (OTH) from up to 50 nautical miles (93 km; 58 mi) offshore, thereby decreasing risk to ships and personnel and generating greater uncertainty in the enemy's mind as to the location and timing of an assault, thereby maximizing its prospects of success. The LCAC propulsion system makes it less susceptible to mines than other assault craft or vehicles. Due to its tremendous over-the-beach capability, the LCAC can access more than 80% of the world's coastlines. Previously, landing craft had a top speed of approximately eight knots (15 km/h; 9.2 mph) and could cross only 17% of the world's beach area. Assaults were made from a few miles off-shore. Its high speed complements a joint assault with helicopters, so personnel and equipment can be unloaded beyond the beach in secure landing areas.
The USS New York (LPD-21) is a San Antonio-class amphibious transport dock. The contract to build New York was awarded to Northrop Grumman Ship Systems of New Orleans, Louisiana, in 2003. was christened on 1 March 2008, in a ceremony at Avondale Shipyard in New Orleans. The ship was delivered to the Navy on 21 August 2009 at New Orleans.
The San Antonio class was designed to provide the Navy and U.S. Marine Corps with modern, sea-based platforms that are networked, survivable, and built to operate with 21st century transformational platforms, such as the MV-22 Osprey, the (since canceled) Expeditionary Fighting Vehicle (EFV), air-cushioned landing craft (LCACs), and future means by which marines are delivered ashore.
Source: navyrecognition.com