23-Jul-2020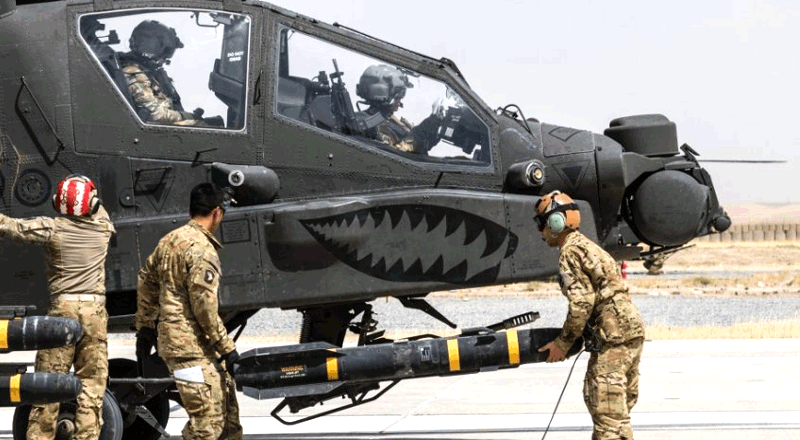 ---
Lockheed Martin was awarded a $702,881,910 modification to contract W31P4Q-18-C-0130 for the procurement of Hellfire missiles. Work locations and funding will be determined with each order, with an estimated completion date of Sept. 30, 2023. Fiscal 2010, 2011, 2018, 2019 and 2020 other procurement (Army) funds in the amount of $702,754,471 were obligated at the time of the award. U.S. Army Contracting Command, Redstone Arsenal, Alabama, is the contracting activity.
The AGM-114 Hellfire is an air-to-surface missile (ASM) first developed for anti-armor use, but later models were developed for precision drone strikes against other target types, and have been used in a number of actions aimed to "destroy High-value targets." It was originally developed under the name Heliborne laser, fire-and-forget missile, which led to the colloquial name "Hellfire" ultimately becoming the missile's formal name. It has multi-mission, multi-target precision-strike ability, and can be launched from multiple air, sea, and ground platforms, including the Predator drone. The Hellfire missile is the primary 100-pound (45 kg) class air-to-ground precision weapon for the armed forces of the United States and many other nations.
Most variants are laser-guided, with one variant, the AGM-114L "Longbow Hellfire", being radar-guided. Laser guidance can be provided either from the launcher, such as the nose-mounted optoelectronics of the AH-64 Apache attack helicopter, other airborne target designators or from ground-based observers, the latter two options allowing the launcher to break the line of sight with the target and seek cover
In 2008, the usage of the AGM-114N Metal Augmented Charge (MAC) variant caused controversy in the United Kingdom when it was reported that these thermobaric munitions were added to the British Army arsenal. Thermobaric weapons have been condemned by human rights groups. The UK Ministry of Defence refers to the AGM-114N as an "enhanced blast weapon".
The AGM-114 has been the ammunition of choice for airborne targeted killings that have included high-profile terrorist figures such as Ahmed Yassin (Hamas leader) in 2004 by the Israeli Air Force, Anwar al-Awlaki (American-born Islamic cleric and Al Qaeda in the Arabian Peninsula leader) in Yemen in 2011, Abu Yahya al-Libi in Pakistan in 2012, Moktar Ali Zubeyr (also known as Ahmad Abdi Godane, leader of al-Shabaab) in Somalia in 2014,and Mohammed Emwazi (British-born ISIL executioner also known as 'Jihadi John') in Syria in 2015.
The AGM-114 has occasionally seen use as an air-to-air missile. The first operational air-to-air kill with a Hellfire took place on 24 May 2001, after a civilian Cessna 152 aircraft entered Israeli airspace from Lebanon, with unknown intentions and refusing to answer or comply with ATC repeated warnings to turn back. An Israeli Air Force AH-64A Apache helicopter fired on the Cessna, resulting in its complete disintegration. The second operational air-to-air kill with a Hellfire occurred on 10 February 2018, after an Iranian UAV entered Israeli airspace from Syria. An Israeli Air Force AH-64 launched a missile on the UAV, successfully destroying it.
Source: armyrecognition.com