27-Dec-2020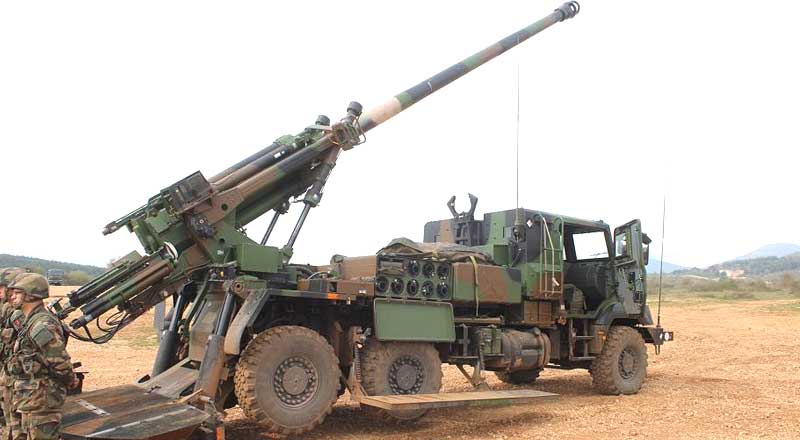 ---
According to information published on the website "La Lettre A" on December 24, 2020, before the end of 2020, the French Ministry of Defense Florence Parly could sign a new contract with the French company Nexter for an order of 32 new CAESAR 155mm wheeled self-propelled howitzers.
According to the military balance 2020, the French armed forces have a total of 77 CAESAR 155mm wheeled self-propelled howitzers. The CAESAR (CAmion Equipe d'un Système d'ARtillerie, or truck-mounted artillery system) was presented for the first time to the public in 1994 and delivered to the French army in late 2002.
The CAESAR of the French army is manufactured by the French company Nexter and based on a 6x6 ARQUUS (formerly Renault Trucks Defense) military truck chassis. The CAESAR is a combat-proven artillery system and used during military operations in Afghanistan, Mali, Lebanon, Iraq, Syria, the Sahel region, the Middle-East, and East Asia.
The CAESAR has a crew cabin located at the front of the vehicle that can be fitted with add-armor to increase ballistic protection against firing of small arms and artillery shell splinters. The rear of the truck chassis is fitted with one upgraded version of TRF1 155mm 52 caliber towed howitzer.
The 155mm/52 caliber of the CAESAR can fire a wide range of ammunition: among others, LU family (HE, Illuminating, Smoke and Practice) filled with insensitive or conventional explosives, the BONUS (Anti-Tank, smart), ERFB NR (Explosive Extended-Range Full-Bore), as well as the new KATANA 155mm, guided artillery ammunition. It has a firing range from 4.5 to 40 km and a high level of accuracy with the LU family.
The 6x6 155mm self-propelled howitzer using the Sherpa 6x6 truck chassis is motorized with a Renault dCI 6 diesel engine coupled to a manual gearbox with 8 forward and 1 reverse gears. It can reach a maximum road speed of 90 km/h, or 50 km/h in off-road conditions, with a maximum cruising range of 600 km.
Source: armyrecognition.com