12-May-2022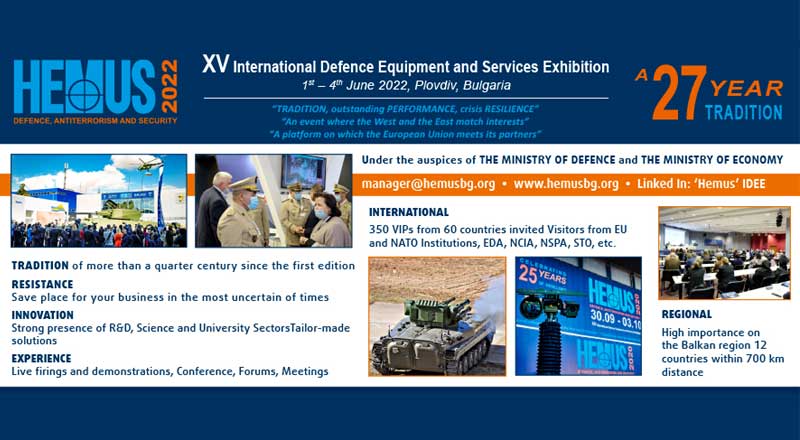 ---
Significant interest in Hemus 2022 supported by the general sponsorship of Apollo Engineering and Lockheed Martin

The Organizing Committee of the 15th edition of the International Exhibition of Defense Equipment and Services - "Hemus 2022" is pleased to announce to all interested parties that the Exhibition enjoys significant interest in the country and abroad.
Indication in this regard is the fact that the 15th edition of the Exhibition has a larger number of sponsors - two general sponsors and a sponsor.
General sponsors are Apollo Engineering Ltd. and Lockheed Martin.
"Apolo Engineering" Ltd. is one of the leading Bulgarian companies, offering products and services in the area of defence and security. The company is well-known and accepted by dozens of countries, located on several continents, thanks to its correctness and business activities compliant to the UN Security Council resolutions, as well as the high quality and reliability of its products and services covering international standards requirement. More information about the company can be found on the company's website - www.apolobg.com.
Lockheed Martin is a global security and aerospace company that employs approximately 114,000 people worldwide and is principally engaged in the research, design, development, manufacture, integration and sustainment of advanced technology systems, products and services within the following business areas: Aeronautics, Missiles and Fire Control, Rotary and Mission Systems and Space. Lockheed Martin is a major supplier of U.S. Department of Defense and U.S. federal government agencies as well as of the armed forces of more than 40 nations. https://www.lockheedmartin.com/en-us/index.html.
Sage Consultants JSCo is also a sponsor of the Exhibition.
We are pleased to inform our audience also that currently exhibitors from 19 countries, including Bulgaria, have confirmed their participation in the Exhibition. Most of the exhibitors are representatives of the national and international defense industry, scientific institutions, Bulgarian military and technical universities, NGOs, structures of the Ministry of Defense and the Ministry of Interior, etc., and the number of exhibitors abroad exceeds the previous edition. There are currently indications for participation of official delegations from 8 countries, some of which will be led by the relevant defense ministers. The number of responses from the invited countries is growing.
Preparations for the accompanying events - the International Scientific Conference, the Industrial Forum, the Demonstration Shooting and the Static Display of Armaments and Equipment - are also progressing very well. We will again have a participation of military equipment from the Armed Forces of a partner country, which will be exposed next to that of the Bulgarian Armed Forces. A Symposium on Research and Innovation for European Security and Defense (RISE-SD) will be held for the first time as part of the Exhibition, marking one year since the launch of Horizon Europe (HE) and the European Defense Fund (EDF), the new framework program for research and innovation. The first international Hackathon in Bulgaria - DefInSpace - is expected to take place. DefInSpace 2022 is an international competition for innovation with a focus on the application of space technology in the field of defense and security, initiated by the French Space Command