12-May-2020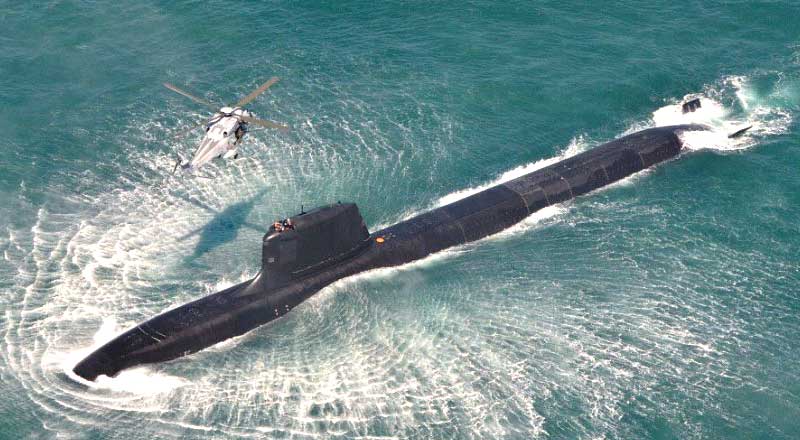 ---
Barracuda-class nuclear attack submarine Suffren goes on sea trials with first helicopter hoist training

The sea trials of the Suffren, the first Barracuda-class nuclear attack submarine, go on with first helicopter hoist training. They will enable the French Defence Procurement Agency (DGA) and the French Navy to test the performances of the submarine at sea before her delivery later this year. A total of six Barracuda-class vessels will be added to the French Navy's fleet by 2030.
These sea trials, which started a month late due to the health crisis, began with a static dive, allowing the vessel to be weighed and balanced before the ship headed for the Atlantic for the trials platform. They will then continue in the Mediterranean for the testing of the weapons system.
Led by the French Defence Procurement Agency (DGA), these sea trials, which will last around three months, will confirm "the robustness and efficiency of the submarine before its delivery to the French Navy" in the current of the year, explained the press release from the Ministry of the Armed Forces.
In accordance with the commitments of the military programming law (LPM) 2019-2025, the six SNA Barracuda are all ordered. The first four will be delivered by 2025. With the Suffren, the Duguay Trouin, Tourville, De Grasse, Rubis and Casabianca, currently at different stages of construction, will allow the gradual withdrawal of the first generation ANS.
About the SNA Suffren:
The Barracuda class (or Suffren class) is a nuclear attack submarine, designed by the French shipbuilder Naval Group (formerly known as DCNS and DCN) for the French Navy. It is intended to replace the Rubis-class submarines. It is powered by a nuclear propulsion system using a new hybrid design that provides electric propulsion for economical cruise speeds and turbo-mechanical propulsion for higher speeds.
The armament of the Suffren-class submarine includes with four 533mm torpedo tubes and 20 storage racks for various weapons including F21 Artemis heavy torpedoes, Exocet SM.39 Block 2 anti-ship missiles with a range of 50 km, SCALP naval cruise missiles with a range of over 1 000 km, and FG29 mines. Two mines can be carried per weapon rack.
About the NH90 Helicopters:
The NH90 is a twin-engine, medium-size helicopter program managed by the joint venture NHIndustries, a Company owned by Leonardo Helicopters, Airbus Helicopters and GKN Fokker. The NH90 helicopter programme is the largest ever launched in Europe. It has been developed to meet the needs of military operators worldwide. It encompasses Tactical Transport and Naval versions, distinguished by the presence of specialised on-board mission systems.
The Tactical Transport Helicopter (TTH) variant is designed for high manoeuvrability and survivability in Nap of the Earth (NOE) operations and is ideal for tactical transport (16 to 20 troops or material), Special Operations, Search & Rescue, Medical Evacuation (with 12 stretchers), Counterterrorism, Command and Control, Parachuting, VVIP transport and Disaster Relief support.
Source: navyrecognition.com