23-Jun-2021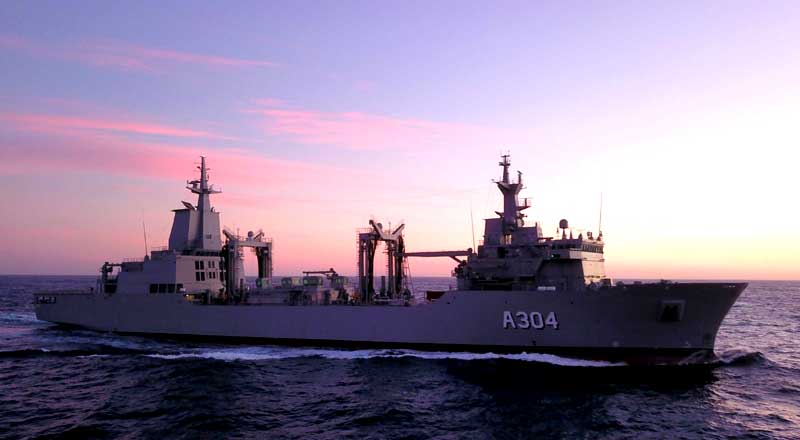 ---
After a 30 day transit across the world's oceans, NUSHIP Stalwart arrived safely at Fleet Base West in Western Australia on Monday, 21 June 2021.
NUSHIP Stalwart is the second of two Supply Class Auxiliary Oiler Replenishment (AOR) ships built for the Royal Australian Navy by Navantia, S.A., S.M.E. The Australian Supply Class ships are based on the Spanish Navy's Cantabria Class design.
The ship was crewed by a team of 20 Teekay and six Navantia S.A. S.M.E. personnel who Teekay Captain Luke Hosking said worked together as "One Crew, One Team, One Family", throughout the voyage.
Navantia Australia's managing director, Mr Israel Lozano, said that the arrival of Stalwart is a pivotal moment for Navantia Australia.
"The arrival of NUSHIP Stalwart and commissioning earlier this year of HMAS Supply, marks a significant milestone for Navantia Australia. Supporting the Supply Class AORs represents our first opportunity to Prime through life support services for Navantia designed vessels in service with the Royal Australian Navy."
"This program provides Navantia Australia with the opportunity to demonstrate its commitment to helping develop the Australian sovereign shipbuilding and sustainment industry."
Navantia Australia is supporting NUSHIP Stalwart and sister ship, HMAS Supply, through life as the Prime Contractor under the AORSPO Enterprise for the first five years' of service. Navantia Australia established its Sustainment Support Centre in 2020 at the AMC Jakovich Centre, Henderson, Western Australia specifically to provide first class asset management for NUSHIP Stalwart.
NUSHIP Stalwart will commence final fit-out and testing activities at HMAS Stirling after clearing custom and quarantine, and will commission into service with the Royal Australian Navy later this year.
Source: www.navantia.es