13-Apr-2020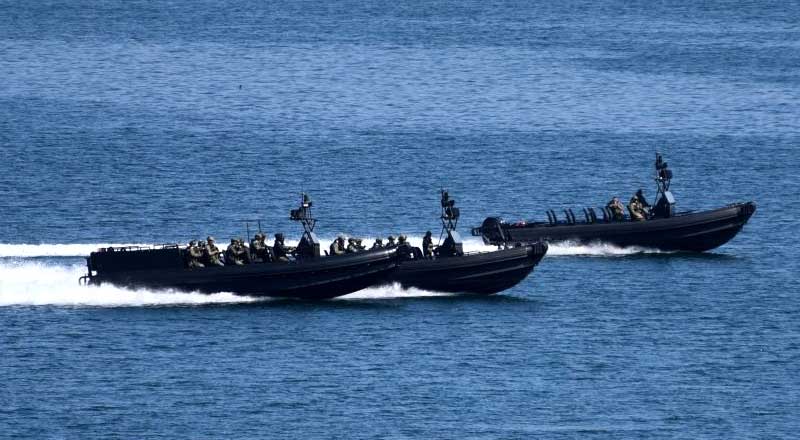 ---
Kalashnikov company has delivered new BK-10 high-speed patrol boat to Sub-Saharan African country

"Rosoboronexport has begun implementing the first export contract with a Sub-Saharan African country for the delivery of Project 02450 BK-10 transport-assault RIBs," said the press department, adding that the contract "has been inked recently". The company did not detail the number of the BK-10s to be delivered to the customer.
According to Director General of Rosoboronexport Alexander Mikheev, the above-mentioned agreement has become "the first contract for the delivery of Russian-made ready-use naval hardware to Sub-Saharan Africa in the last 20 years".
The Project 02450 BK-10 transport-assault RIB has been designed by the Kalashnikov Group's Rybinsk Shipyard. According to the enterprise, it is designed for offshore operations, transportations, beach landings, fire support, counter-piracy and counter-terrorism missions, medical evacuation, and relief missions. The boat is complemented with a semi-trailer.
According to the Rybisk Shipyard, the BK-10 has a displacement of 6.12 t. The RIB is 10.48 m long, 3.7 m wide, and 4.08 m high and has a draught of 0.60 m. The BK-10 is powered by two 300-hp or 350-hp diesel engines, producing a speed of 40 kt, a cruising range of 400 nm, and an endurance of 18 hours. The basic boat carries no weapons; however, it can be armed with a 40 mm automatic grenade launcher (AGL) or two 7.62 mm general-purpose machineguns (GPMGs). The BK-10 is manned by a two-strong crew and transports up to 10 servicemen.
The Rybinsk Shipyard is expanding the BK-10 family of fast craft. The enterprise has developed the BK-10M ('M' for Upgraded, Modernizirovannaya) RIB, which features a larger displacement (8.0 t), more powerful engines (370 hp each), longer endurance (1 day), and enlarged passenger capacity (12 servicemen). The BK-10M can carry a Kord 12.7 mm heavy machinegun with two 7.62 mm Kalashnikov PKM GPMGs or a Balkan 40 mm AGL with a Pecheneg 7.62 mm GPMG.
The Rybinsk Shipyard has recently unveiled the BK-10DE, which is the largest member of the BK-10 family. This RIB has a displacement of 9.3 t, two 436-hp engines, and a passenger capacity of 10 servicemen. The BK-10DE can be airdropped by an Ilyushin Il-76 (NATO reporting name: Candid) heavy transport aircraft.
Source: navyrecognition.com