15-May-2020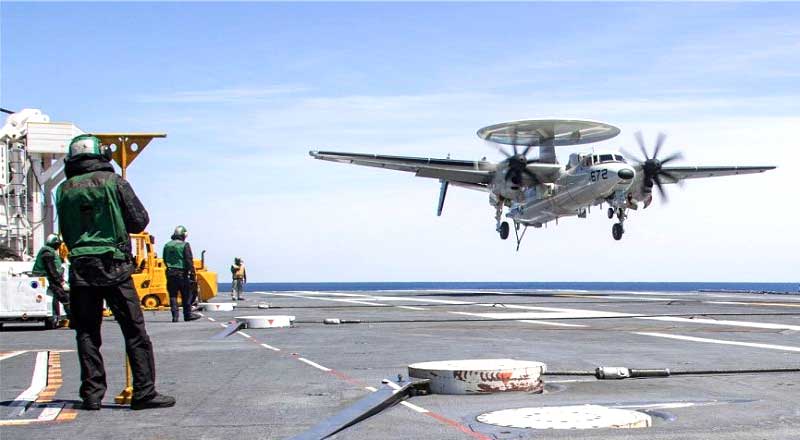 ---
US Navy aircraft carrier USS Gerald R. Ford transition to E 2D Advanced Hawkeye airborne surveillance aircraft

U.S. Navy aircraft carrier USS Gerald R. Ford (CVN 78), the only carrier qualification (CQ) asset regularly available on the East Coast this year, commenced its second round of CQs for Fleet Replacement Squadron (FRS) pilots May 10, with a healthy and mission-focused crew.
USS Gerald R. Ford, operating at-sea at the same time as four other U.S. aircraft carriers, is conducting its fourth independent steaming event (ISE) since commencing an 18-month Post Delivery Test and Trials (PDT&T) phase of operations in November 2019.
While underway Ford will conduct FRS CQ with pilots from Airborne Command and Control Squadron (VAW) 117 and VAW-120, and Strike Fighter Squadron (VFA) 106.
The "Wallbangers" of VAW-117 are set to mark a milestone while aboard Ford as they complete CQ requirements to transition from the E-2C Hawkeye to the E-2D Advanced Hawkeye. VAW-117's transition will take the Navy past the 50 percent point, making the E-2D Advanced Hawkeye the new baseline platform for the community.
"The E-2D is our latest and greatest aircraft that has a lot of good equipment and a really good radar that's going to allow us to see our enemies at distances that we really haven't seen before," said Lt. Cmdr. Jeremiah Caldwell, a pilot assigned to VAW-117. "The training process for us is about three years just to get to the fleet, so we are here aboard Ford training fleet aviators that are making the transition from the Charlie to the Delta."
With two days of CQ complete, Ford has completed 237 catapult launches and 244 Advanced Arresting Gear landings, meeting all daily objectives.
Following Super Hornet FRS CQ, Ford will begin CQ for Chief of Naval Air Training (CNATRA) student naval aviators and instructor pilots, continuing critical training to our aviators to execute fleet missions from and at sea.
The E-2 Hawkeye is an American all-weather, carrier-capable tactical airborne early warning (AEW) aircraft produced by the company Northrop Grumman. The latest E-2 version is the E-2D Advanced Hawkeye, which features an entirely new avionics suite including the new AN/APY-9 radar, radio suite, mission computer, integrated satellite communications, flight management system, improved T56-A-427A engines, a glass cockpit and later changes should enable aerial refueling by 2020.
Source: navyrecognition.com