14-Jun-2020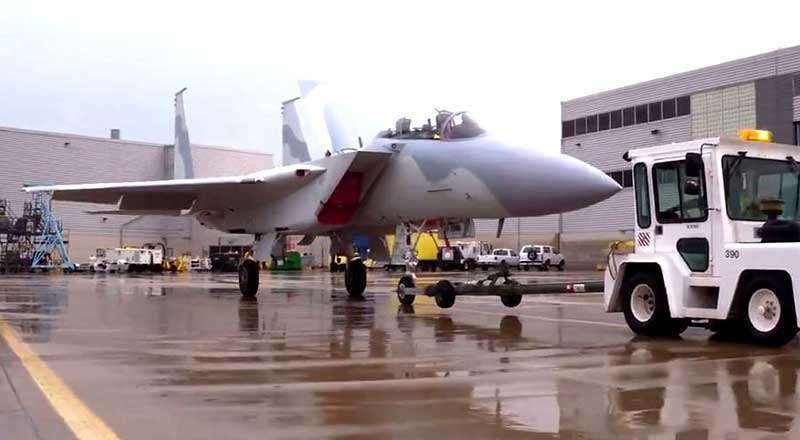 ---
American Company Boeing released a video on its Twitter account on June 11, 2020, showing an F-15QA painted in its custom livery. The most advanced F-15 fighter jet ever built, this aircraft – and the paint scheme – were specifically designed for Qatar Air Force.
Qatar and the U.S. signed an agreement in 2017 covering the delivery of 36 F-15QA fighter jets, at a cost of about $12 billion. The production line for the fighter jets was formally inaugurated in August 2018, and assembly of the first jets for the Qatari Air Force got underway soon thereafter. In November 2018, Brig. Gen. Issa al-Mohannadi told media that Qatar expects to begin taking delivery of the aircraft in early 2021.
The McDonnell Douglas F-15 Eagle is an American twin-engine, all-weather tactical fighter aircraft designed by McDonnell Douglas (now part of Boeing). The F-15 conducts its first flew in July 1972, and entered service in 1976. It has been exported to Israel, Japan, and Saudi Arabia. The F-15 was originally envisioned as a pure air-superiority aircraft.
The F-15 can be armed with combinations of different air-to-air weapons: AIM-120 advanced medium range air-to-air missiles on its lower fuselage corners, AIM-9L/M Sidewinder or AIM-120 missiles on two pylons under the wings and an internal 20mm Gatling gun in the right wing root.
On April 2020, Boeing announced that the F-15QA for Qatar air Force, the most advanced version of the F-15 Eagle, performed successfully its first flight from the company's plant at Lambert International Airport in St. Louis.
The F-15QA brings to its operators next-generation technologies such as fly-by-wire flight controls, digital cockpit; modernized sensors, radar, and electronic warfare capabilities; and the world's fastest mission computer. Increases in reliability, sustainability and maintainability allow defense operators to affordably remain ahead of current and evolving threats.
Source: airrecognition.com