16-Jul-2020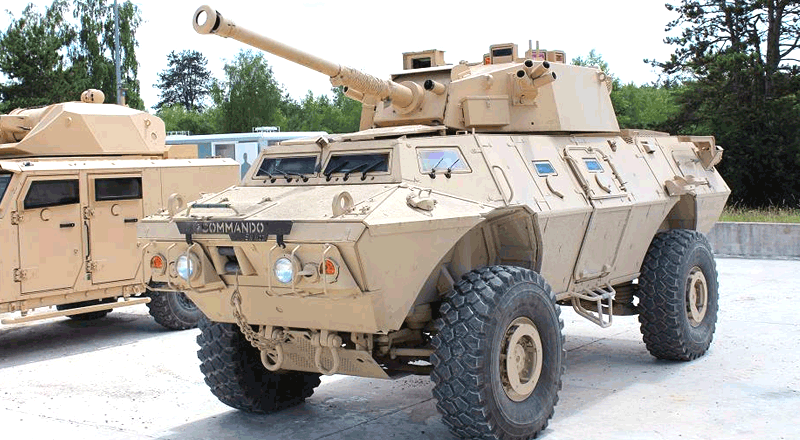 ---
The Colombian Army studies the possibility to integrate the Belgian turret John Cockerill CSE 90LP on M1117 4x4 armored vehicle manufactured by the American Company Textron Marine & Land Systems, the vehicle is named Pegaso by the Colombian army.
According to the Military Balance 2020, the Colombian army has a total of 28 M1117, 32 Stryker 8x8 armored vehicles and 121 EE-9 Cascavel 6x6 armored vehicles armed with a 90mm cannon. An undisclosed number of Colombian M11117 will be upgraded with the Belgian turret John Cockerill CSE 90LP.
Textron M1117 Commando 4x4 armored vehicle in service with the Colombian army under the name of "Pegaso". According to the SIPRI (Stockholm International Peace Research Institute) arms trade database, 28 M1117 ASV (Armored Security Vehicle), 4x4 armored vehicles were delivered to Colombia in 2013/2014 and the second batch of 60 vehicles was delivered in 2016, including command post version. According to a Colombian army officer, two versions of the American-made Textron 4x4 armored vehicles are in service with the Colombian army, the Commando Select, and the Commando Advanced.
The ASV is a highly mobile wheeled combat vehicle with 360-degree armor protection against small arms fire that can withstand anti-tank land mines under any wheel and artillery burst fragments overhead.
The M1117 is available in different variants including an Armored Personnel Carrier (APC) version able to 10 military personnel including driver and commander. The vehicle is motorized with a Cummins 6CTA8.3, 260 hp/828 lb-ft engine, coupled to a transmission Allison MD3560 with 6 forward and 1 reverse speed. It can run at a maximum road speed of 97 km/h.
The John Cockerill CSE 90LP is a two-man weapon system that delivers the serious firepower and flexibility of the proven 90mm low-pressure weapon to mechanized forces. It does this in a compact package well-suited to light armored vehicles. The Cockerill CSE 90LP offers 24-hour day/night operating capability and a wide range of target effects. Ideal for peacekeeping and war-fighting alike, the in-service-Cockerill CSE 90LP provides a uniquely attractive combination of firepower, protection, and high mobility.
Source: armyrecognition.com