14-Apr-2020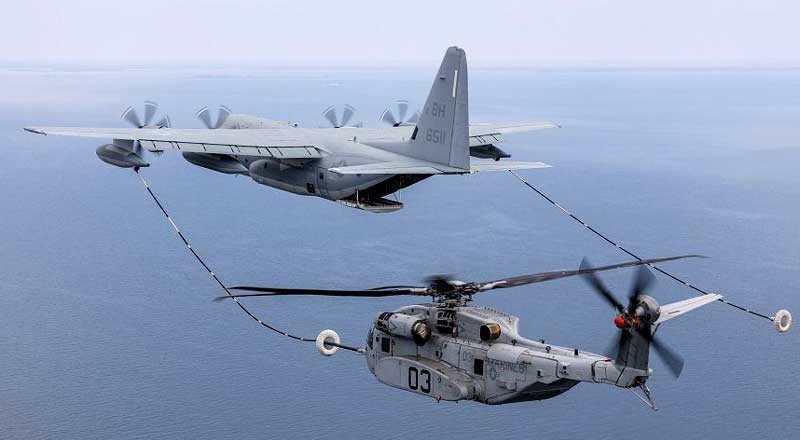 ---
CH-53K King Stallion successfully completed an air-to-air refueling test

"The aircraft went to the tanker this week and it was very successful, proving it is a long-range vertical logistic workhorse," said Col. Jack Perrin, H-53 heavy-lift helicopters (PMA-261) program manager.
According to the CH-53K test team, the wake survey test assessed the performance of the aircraft when flying behind the tanker in strong, turbulent air. The aircraft's crew successfully plugged the drogue, a funnel-shaped basket towed behind the KC-130J. These tests were performed at increasing closure rates to ensure the CH-53K can handle the forces on the refueling probe when contacting the drogue during aerial refueling.
"The aircraft was able to meet the desired performance for all engagements," said Perrin. "The 'K' is the long-range enabler that we need now and into the future."
The CH-53K King Stallion continues to execute within the reprogrammed CH-53K timeline, moving toward completion of the developmental test, leading to initial operational test and evaluation in 2021 and first fleet deployment in 2023-2024.
The Sikorsky CH-53K King Stallion is a heavy-lift cargo helicopter currently being developed by Sikorsky Aircraft for the United States Marine Corps (USMC). The CH-53K helicopter has been designed and built to the exacting standards of the U.S. Marine Corps (USMC) and will serve as its critical land and sea based logistics connector. The new heavy lifter will allow the U.S. Marine Corps and international militaries to move troops and equipment from ship to shore, and to higher altitude terrain, more quickly and effectively than ever before.
With its external lift capabilities, and a wider cabin (30 cm/12 in), the CH-53K is the ideal choice for transporting more cargo or troops with fewer trips. The larger cabin is able to carry 463L pallets and High-Mobility Multipurpose Wheeled Vehicles (HMMWVs) which offers flexible configurations for maximum mission effectiveness, and facilitates loading/unloading of cargo without reconfiguring and removing troop seating.
Source: navyrecognition.com