11-Apr-2020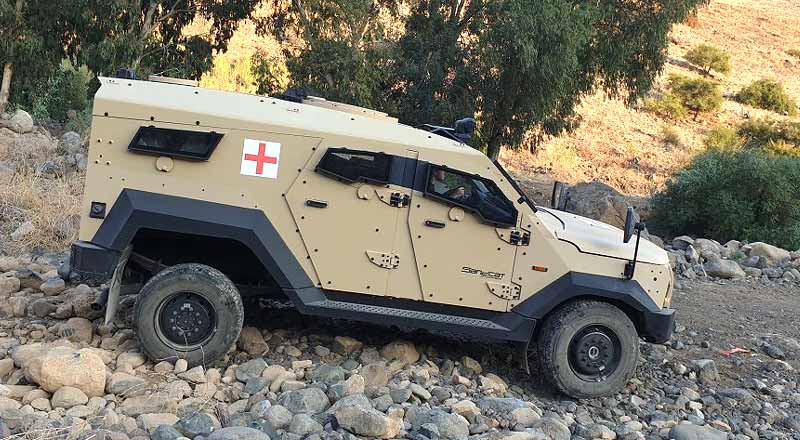 ---
Plasan's vetronics infrastructure controls, monitor and protect all electronic systems onboard, together with the automotive subsystems and sensors. Specialize in its ability to combine automotive and mission systems operability, Plasan's vetronics provides unprecedented levels of situational awareness, contributing to better safety and security, improved operability at the single vehicle level, combat team level as well as for entire fleets.
The SandCat family of 4×4 armored vehicles has been designed to support a wide range of challenges and missions including law enforcement, SWAT and special forces, peacekeeping, homeland security, border patrol, and armed conflict. SandCats are also used to transport troops, as a command and control or communications center, weapon carriers, VIP transport through conflict zones, and now an ambulance.
A unique Kitted Hull built to meet up to STANAG 4569 Level 3 Protection, puts SandCat in a class of its own. Lightweight composite materials and unique cabin designs ensure added protection which does not come at the expense of added vehicle weight or reduced performance.
A new, powerful, energy-efficient 6.7-liter turbodiesel engine has been integrated in the vehicles with an upgraded 4x4 commercial chassis to provide speed, maneuverability, and a tight turning radius. SandCat will keep moving on rocky, hilly, sandy, icy and jungle or swampy terrain, as well as the densest urban streets filled with rioters, terrorists and obstacles. After a decade of mission-proven performance, SandCat offers the protection, comfort, payload, reliability and lifetime low operating costs that your forces need.
The ambulance version of the SandCat family offers the same level of ballistic and mine protection as the other versions of the SandCat. The rear part of the vehicle has been modified to carry two stretchers and a paramedic offering high level of protection and maneuverability in the modern battlefield.
Source: armyrecognition.com