18-Apr-2020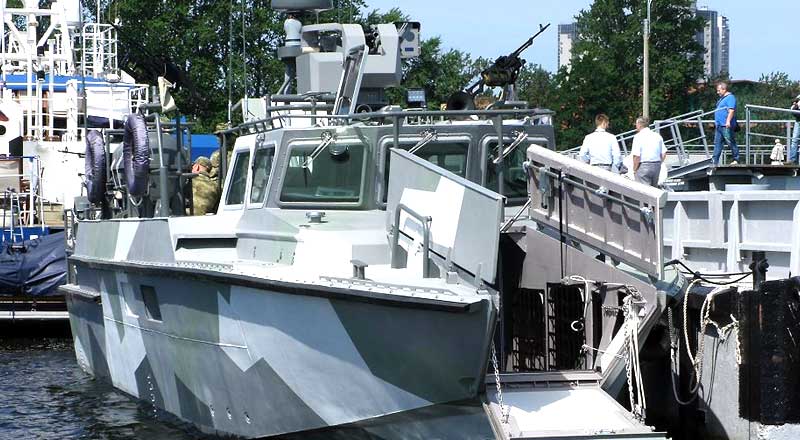 ---
Navy shipbuilding department chief Rear Admiral Vladimir Tryapichnikov and Pella CEO Herbert Tsaturov attended the event. Tryapichnikov read out a congratulatory message from Russian Navy Commander-in-Chief Nikolai Yevmenov who said batch construction of Raptor-class boats was important for the security of naval bases.
Besides the construction of blue and green-water warships, the Navy pays much attention to infrastructure development which has to be reliably protected. Raptor boats are necessary for that. They are reliable, seaworthy, and fast.
Yevmenov said the floated 15th and 16th boats will join the Baltic fleet in June 2020. Crews are being trained at present.
Project 03160 boats patrol coastal waters, engage in rescue operations, intercept small-tonnage targets, defend ports and bases from small sea and air targets. They are armed with 14.5 mm remotely operated and stabilized optical-electronic module with a detection range of 3,000 meters and precision fire to a distance of 2,000 meters, as well as two Pecheneg 6P41 7.62 mm machine guns.
The armored protection of the Raptor-class patrol boat includes Br4 class panels and windows with 39mm thick bulletproof glass. The displacement is 23 tons, the length is 16.9 meters, the width is 4.1 meters, the draft is 0.9 meters. The maximum speed is 50 knots. The range is 300 miles. The crew comprises 2-3 men. Special personnel is 20 men. The boat operates in ice-free brown waters, straits, river deltas day and night at a distance of 100 miles from the base.
Source: navyrecognition.com