31-May-2021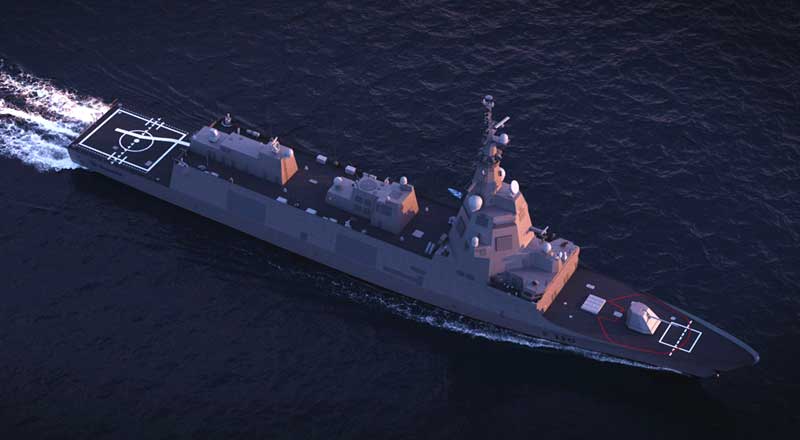 ---
On June 9th, the Spanish shipbuilder will launch an Industry Day portal to engage local industrial players
Navantia has committed to the delivery of 4 new frigates for the Hellenic Navy fleet and the modernization of the Hydra Class within the highly demanding Hellenic Navy schedule. The new frigates include their latest smart frigate design, the F-110, set to become the backbone of the Spanish Navy. The F-110 embeds cutting-edge naval technologies along with its innovative production and operation capabilities. These innovations include full interoperability with European and US systems, latest-generation weapons and the use of a "digital twin" that allows operational simulation and evaluation.
Navantia will partner with the Greek shipbuilding industry and will boost the ecosystem of technology developers, engineering companies, industrial process contractors and equipment and materials suppliers in Greece. As a core part of the program, the Spanish shipbuilder presented an ambitious technology and capabilities transfer (ToT) plan to revitalize Greek shipbuilding capability. The ToT plan not only involves industrial relationships, but also building collaborations with universities and centers of excellence for innovation and workforce development. This plan is backed by the firm's broad experience in developing capabilities for partner countries including Australia, Norway, and the Kingdom of Saudi Arabia. Navantia also plans to drive the necessary investment to redevelop Greek shipyard assets, helping to create a sustainable source of employment and economic growth for Greece.
To strengthen its ties with Greek industry, Navantia is launching an Industry Day web portal on the 9th of June to engage with the Greek shipbuilding and industrial ecosystem, onboarding local companies of all types and sizes. Its goals are presenting the program objectives, offering the opportunity for Greek companies to meet one-to-one with Navantia and signing agreements for collaboration.
"It is with great pride that we offer to Greece our most advanced frigate, the F-110, that represents a technological leap forward in capabilities that has already drawn international interest", said Navantia's Executive Chairman Ricardo Domínguez.
"Navantia has a broad experience in transfer of technology and capabilities building with partner countries, as we already proved in Australia, Norway and, more recently, Saudi Arabia. Our track record in this field and our willingness to partner with Greek industry add significant value to our proposal", declared Javier Herrador, Commercial and Business Development Vice President.