12-Apr-2020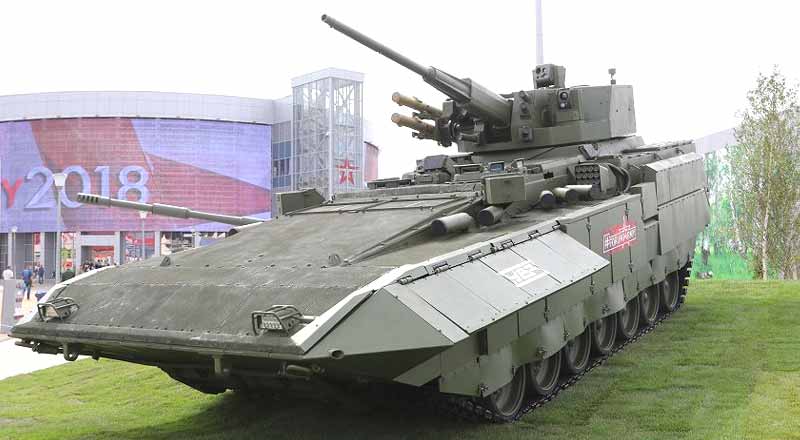 ---
In September 2015, Russian company Uralvagonzavod has presented the T-15 BMP (IFV Infantry Fighting Vehicle) version based on the Armata tracked chassis. The T-15 BMP is fitted with an unmanned turret located at the rear of the vehicle, designed and manufactured by the Defense Company KBP. The turret of the T-15 BMP is armed with one 30 mm 2A42 automatic cannon as main armament.
At the Army-2018 defense exhibition that was held in August 2018 near Moscow, the Russian Defense Industry has presented a tracked armored vehicle based on Armata platform fitted with an unmanned turret armed with one 57 mm automatic cannon. This vehicle could be the next generation of BMPT fire support vehicles for the Russian army.
The 57 mm cannon is also mounted on the 220M Baikal remotely operated weapon station. The new 57mm is based on a modified S-60 towed anti-aircraft cannon. It has a range of 14.5 km with a maximum rate of fire of 80 rounds per minute. The ammunition stock comprises 80 shells and includes 57mm projectiles including multirole ammunition with remote contact detonation, armor-piercing, and guided rounds able to destroy small drones, low-flying jets and helicopters, as well as light armor and field fortifications.
The second armament of the T-15 shown at Army-2018 also included one remotely operated weapon station armed with one 7.62mm machine mounted to the right side of the main armament as well as two Ataka anti-tank guided missiles. The Ataka is a powerful anti-tank missile with much-improved performance over the older AT-6 Spiral. It has a maximum firing range of 6 km and the tandem warhead could provide penetration of 800 mm armor.
The T-15 with 57mm cannon has the same level of protection as the T-14 Armata with a modular armor system made of steel, ceramics and composite materials. It offers up to STANAG 4569 Level 5 protection. Its forward portion is covered with reactive armor as well as on the sides of the hull. It can be also fitted with additional active and passive armor. The new Afganit hard-kill active protection system is also mounted on the T-15 57mm to defend the vehicle against incoming anti-tank guided missiles (ATGMs), rockets and RPGs.
Source: armyrecognition.com