10-May-2020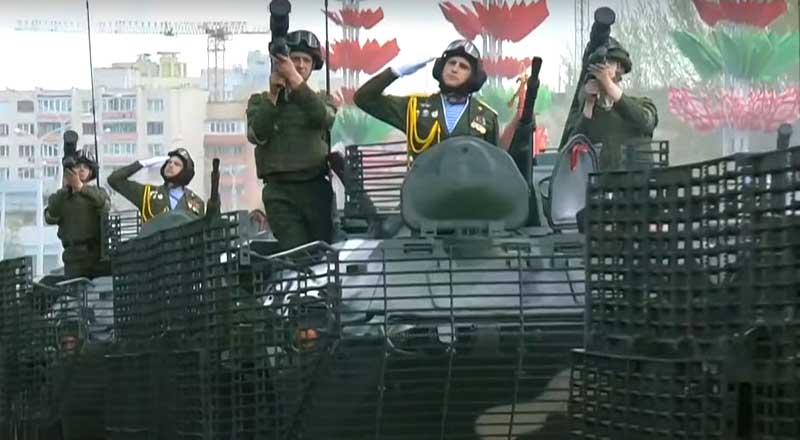 ---
New Belarus BTR-70MB1 and upgraded variant of BTR-80 8x8 armored vehicle at military parade 2020

During Belarus's Victory Day military parade of May 9, 2020, a new upgraded version of Soviet-made BTR-70 and BTR-80 8x8 armored personnel carrier vehicles were unveiled to the public. The BTR-70MB1 is a local-made modernized version of the BTR-70 and BTR-80 with a new armour package including wire cage.
The BTR-70 8x8 amphibious armoured personnel carrier was shown in public for the first time during the November 1980 parade in Moscow. The vehicle is fitted with a one-man turret armed with 14.5 KPVT and a 7.62 mm PKVT machine gun. It has a crew of three and can accommodate 9 infantrymen.
In January 2017, it was announced that Belarus Army will receive the new BTR-70MB1, a modernized version of the Soviet-made BTR-70. The new vehicle looks very similar to the previous version but motorized with a more powerful engine V-8 KamAZ-7403 V-8 turbocharged diesel developing 260 hp The vehicle will also be fitted with a new transmission and transfer case. Despite an additional weight of 1,500 kg compared to the original BTR-70, the BTR-70MB1 has the capacity to run at a maximum road speed of 92 km/h.
A main feature of the BTR-70MB1, it has two doors on each side of the vehicle between the second and third axles, the upper part of which opens to the front while the lower part folds down to form a step as the Russian-made BTR-80.
The internal volume of the BTR-70MB1 was increased by 14 cm to offer more comfort to the infantrymen. The vehicle can carry a total of 11 military personnel including commander, driver and one gunner.
The hull of the BTR-70MB1 is of all-welded steel armour construction with improved protection over its frontal arc compared to the original BTR-60 series. At the Belarus military Parade of May 9, 2020, the BTR-70MB1 was fitted with a slat armour mounted around the hull and the turret.
The slat armor also called cage armor is designed to protect against anti-tank rocket-propelled grenade (RPG) attacks. It takes the form of a rigid slatted metal grid fitted around key sections of the vehicle, which disrupts the shaped charge of the warhead by either crushing it, preventing optimal detonation from occurring, or by damaging the fusing mechanism, preventing detonation outright.
Source: armyrecognition.com