20-May-2021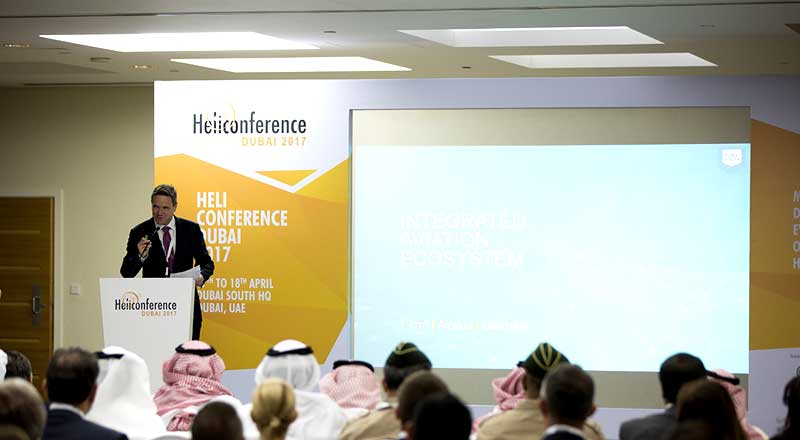 ---
May 24, 2021- Dubai, UAE, HeliConference Dubai 2021 returns to the Emirates Flight Training Academy for its 3rd edition.
HeliConference Dubai 2021 to feature the Unmanned Arial Vehicle / Drone and Military & Homeland Security sectors through its conference. The event is fully supported by the Dubai Civil Aviation Authority, Dubai Airports and Dubai South, HeliConference will be held with the sponsorship of Leonardo Helicopters UK and Aura MEA UAV.
HeliConference Dubai 2021, will once again represent a unique opportunity for the international helicopter & Drone/ UAV community to showcase their products, services and technologies covering the commercial, civil defense and military helicopter markets.
An exclusive two-day conference will shed light on a vast range of topics including "VTOL Solutions for Defence and Security Operations", "Future of increased versatility of rotor-wing applications", "Update on Aerodrome and Helicopter Regulations", "UAE Framework of Heliports Regulatory oversight", "UAV and UAS – Applications in the rotorcraft industry", "UAS from a businessman's eyes", and many others.
This year's conference welcomes industry leaders in their respective fields, from all over the world. Attendees will get to hear keynotes from Tahnoon Saif, CEO at Mohammed bin Rashid Aerospace Hub; Alessandro Giuliani, Military / Para-public Marketing Manager at Leonardo Helicopters; Mohammed Al Dossari, Senior Director Air Navigation & Aerodromes Department at UAE General Civil Aviation Authority; Ksenia Neuwirth, Managing Director at AURA MEA Drone; Mike Black, Chief Office of Defense Partnership at United States Central Command and many more.
Dubai South, which includes Al Maktoum International Airport, a key supporter of the Conference seeks to expand its aviation district in aircraft manufacturing and maintenance operations, a critical part of this growth will be in the Helicopter sector. Tahnoon Saif, CEO of Dubai South's Aviation District, said: "the HeliConference Dubai 2021 will provide a unique opportunity to place together customers, suppliers and government officials to reflect the growing importance of the Helicopter sector within our regional aerospace, highlighting the latest developments and advancements, firmly putting it on the map as a place to do business."
Ahmad Abulhoul, Managing Director, Domus Group, organizers of HeliConference Dubai 2021, said: "With the increasingly important roles played by helicopters and UAVs/drones across a number of industrial, hospitality and crisis management scenarios including military, transport and cargo, firefighting, rescue and offshore oil support, the upcoming edition of the highly successful HeliConference Dubai already started to attract a great deal of interest from international companies, decision makers, government and defense officials, besides commercial customers, owners, users and manufacturers."
For more information visit: https://dubaihelishow.com/