08-Apr-2020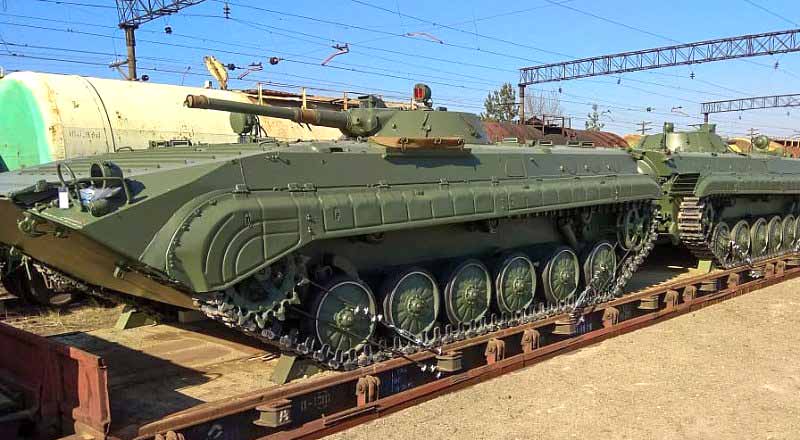 ---
"The state company Ukrspetsexport, a subsidiary of Ukroboronprom, has begun delivering 37 BMP-1 IFVs to the Ukrainian Armed Forces. Last week, the vehicles were supplied to Ukraine ahead of schedule. The technical inspection of the batch [of the BMP-1s] has started on April 2," said Ukroboronprom in a statement on April 7. "The deliveries [of the vehicles] to the Ukrainian Ministry of Defense are being conducted in accordance with a contract, which has been awarded under [the country's] state defense order," said the press department of Ukroboronprom. According to the concern, the Ukrainian military will "receive the vehicles on schedule".
Ukroboronprom has not detailed the supplier of the abovementioned BMP-1 IFVs. Nevertheless, the photos enclosed to the statement have shown Czech-made BVP-1s with red lamps on turret roofs. This lamp is among the most distinctive features of the Czech-built copy of the BMP-1. Therefore, the ground vehicles may have been exported by the Czechoslovak Group (CSG), the largest arms exporter of the Czech Republic.
Ukraine seems to have acquired the baseline BVP-1s without the 9M14 Malyutka (NATO reporting name: AT-3 Sagger) anti-tank guided missile (ATGM) systems. However, the vehicles could be fitted with Soviet or Ukrainian ATGMs, such as 9M113 Konkurs (AT-5 Spandrel) or Stugna-P.
According to the Military Balance 2019 report released by the London-based International Institute for Strategic Studies (IISS), the Ukrainian military has fielded 193 BMP-1/BMP-1AK IFVs.
The CSG's portfolio says the BVP-1 (it is referred to as BMP-1) IFV weighs 13 tons and is protected by 6-23 mm armor. The vehicle is powered by the UTD-20 diesel engine, producing a top road/off-road speed of 65/45 km/h, a top swimming speed of 7 km/h, and a range of 600 km. The IFV is armed with the 2A28 73 mm semi-automatic gun, optionally mounted 9M14M ATGM system, and Kalashnikov PKT 7.62 mm coaxial general-purpose machinegun.

Source: armyrecognition.com