18-Dec-2020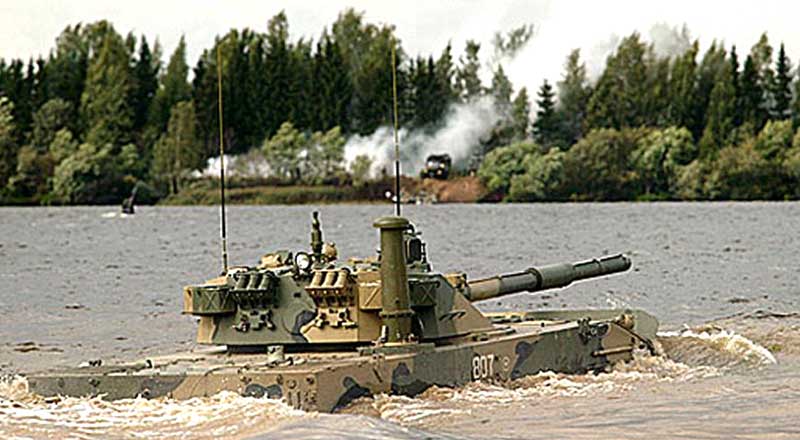 ---
The Sprut-SDM1 self-propelled anti-tank gun (SPATG), which is intended for the Airborne Troops (VDV), successfully passed a swimming test in the Black Sea region under a stage of the state trials, the press department of Rostec reported on December 17.
Rostec's industrial director of the armament complex Bekhan Ozdoyev said : "During the state trials, the tank was extremely checked at sea, in the central part of Russia, and under 40?°C temperatures in subtropics. The vehicle successfully passed through the tests. Trials under low temperatures are scheduled for early 2021. The Sprut-SDM1 is primarily intended for the Russian Airborne Troops; however, one can expect that the system's showed specifications will spark the interest of potential foreign customers".
According to Rostec's press department, each stage of the platform's trials is complemented with live-firings under various conditions. The trials will result in the qualification (O1) of the new vehicle for serial production. "The trials confirmed that the vehicle is capable of swimming at Level 3 sea state, firing when swimming, and coming ashore," said the press department of Rostec.
The 2S25M Sprut-SDM1 is a modernized version of the Sprut-SD. The Sprut-SDM1 light tank is unified with the chassis of the BMD-4M airborne combat vehicle and uses some fire control elements of the T-90MS main battle tank. The Sprud-SDM1 was first publicly revealed in 2016. Currently, only a relatively small number of the original Sprut-SDs light tanks are in service with the Russian airborne units.
Source: armyrecognition.com