10-Jul-2020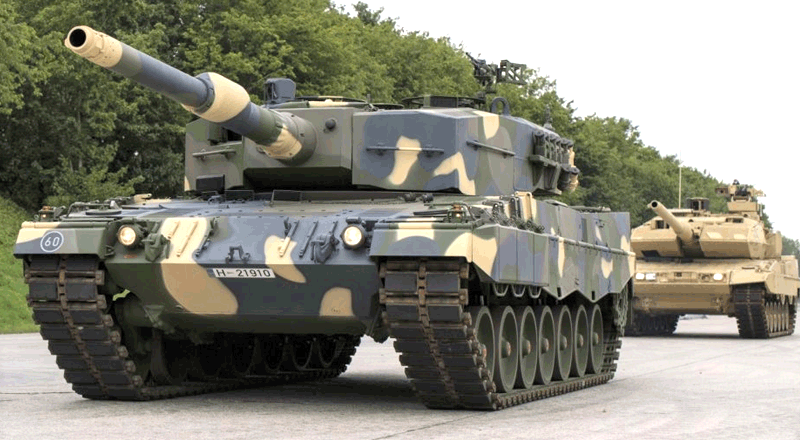 ---
The first German Leopard 2A4 main battle tanks refurbished and upgraded for the Hungarian army have been displayed by KMW in Munich, Germany, the Hungarian Defense Ministry announced. These are a part of an armament and equipment package purchased by Hungary in Germany that includes new MBTs, howitzers, and support vehicles. The Leopard 2A7+ tanks will be delivered later.
On 19 December 2018, as part of its modernization process, Hungary signed a contract for the procurement of 44 new Leopard 2 A7+ main battle tanks and 24 new PzH 2000 self-propelled howitzers with Krauss-Maffei Wegmann (KMW). In addition, Hungary purchased 12 used Leopard 2A4 main battle tanks from KMW's inventories for training purposes. The project represented a further step toward greater interoperability between European armed forces.
Krauss-Maffei-Wegmann is expected to deliver the twelve refurbished and upgraded Leopard 2A4s soon. They are being reintroduced into active service as they have been stored by KMW. Within the framework of the overhauls, the tanks are also fitted with new machine guns replacing the MG3s. These tanks will be used for training purposes primarily, to train the crews for handling the 44 newer Leopard 2A7+ MBTs expected to be delivered to Hungary starting from 2023.
Delivery of these tanks will enable the Hungarian army to make a generational leap from the currently operated T-72M1 tanks. According to one of the reports issued by the German MoD a few years back, a single Leopard 2A7+ MBT has a price tag of EUR 13-15 million. The package purchased by the Hungarians includes the equipment for an MBT battalion and artillery squadron, with support assets. The Leopard 2A7+ is a development of the Leopard 2A6 and benefits from enhanced protection and reconnaissance capabilities. The tank was unveiled during Eurosatory 2010, in France.
Source: armyrecognition.com