28-Jun-2020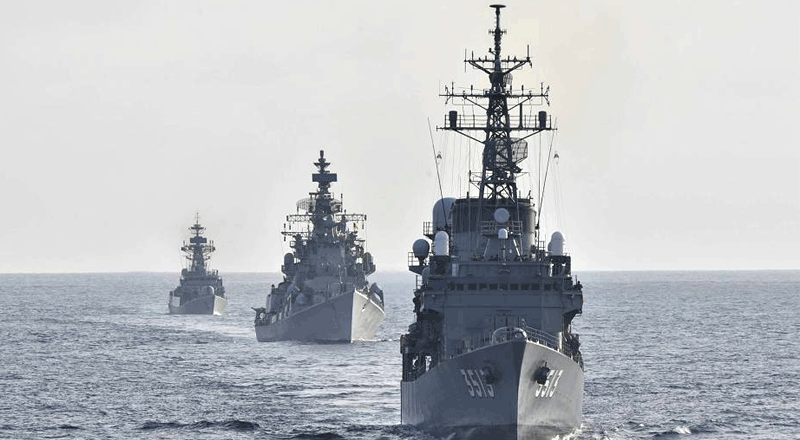 ---
According to a Tweet published by the Japan Maritime Self-Defense Force on June 27, 2020, JDS Kashima (TV-3508) training vessel and JS Shimayuki (TV-3513) destroyer from the Japanese Navy have conducted a sea training exercise with INS RANA Rajput-class destroyer and INS KULISH Kora-class corvette from the Indian Navy at the Indian Ocean.
Defence and Security relations between India and Japan evolved steadily over the years and now constitute a strong pillar of the India-Japan strategic partnership. There has been an increasing frequency of defence exchanges along the entire spectrum such as annual reciprocal visits between booth Defence Ministers.
The Japanese Navy is one the jey partner of the Indian Navy, every year Japan and India take part of Exercise Malabar, a trilateral naval exercise also involving the United States. Originally begun in 1992 as a bilateral exercise between India and the United States, Japan became a permanent partner in 2015.
India and Japan have a high frequency of Indian Navy to Japan Marine Self Defense Force (JMSDF) exercises with the Trilateral Malabar Exercise being the most significant engagement. Malabar 2019 was conducted off Western Kyushu in the Sea of Japan in September 2019. This year Malabar was also significant as for the first time Indian Navy P8I aircraft was deployed to Japan to participate in the exercise. PASSEXs are regularly conducted during the visit of Indian Naval ships and JMSDF ships to each other's port in Indian and Japan.
JDS Kashima (TV-3508) from the Japanese navy is a training ship of the Japan Maritime Self-Defense Force (JMSDF). Built to a unique design during the mid-1990s, Kashima is the flagship of the JMSDF Training Fleet. Kashima, Shimayuki, both attached to JMSDF Training Squadron, are underway in the South China Sea as a part of their Training Cruise 2020, to give the JMSDF trainee officers the opportunity to learn basic knowledge and skills as professional mariners.
The INS Rana is a Rajput-class destroyer in active service with the Indian Navy. She was commissioned on 28 June 1982. The Rajput-class guided-missile destroyers built for the Indian Navy are modified versions of Soviet Kashin-class destroyers.
The INS Kulish is a Kora-class guided corvette, currently in active service with the Indian Navy. She was ordered in October 1994 and was laid in October 1995. She was launched in August 1997 and was commissioned on 20 August 2001. The ship is armed with four quad-launchers for 3M-24 anti-ship missiles (Russian: Kh-35 Uran, NATO: SS-N-25 Switchblade). The corvette is also armed with a 76 mm (3.0 in) AK-176 dual-purpose gun and two 30 mm (1.2 in) AK-630 CIWS. The Ak-176 can fire at the rate of 120 rounds-per-minute (RPM) to a range of 15.5 km (9.6 mi), while the AK-630 can fire 3,000RPM to a range of 2 km (1.2 mi).
Source: navyrecognition.com